Let us introduce Hyderabadi Haleem, a much loved dish across Indian sub continent and among travelling Memsahibs. 
The root of the dish can be traced back as far as 10th Century Persia where this energy filled semi soup, semi stew consistency porridge would be offered to labourers to keep them energised for a long day of work. As it travelled through the Indian subcontinent and all the way to Bengal it had been adapted by various tribes; sometimes eaten for breakfast, sometimes for lunch and a staple for breaking fast in the evening during Ramadan. 
We love this mouth salivating, tummy crunching, flatbread dipping mouthful of heaven on a cold wintery evening which not only fills the belly but brings that extra little warmth in our heart too.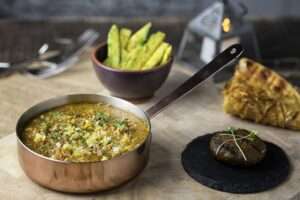 Preparation:  20 minutes
Cook: 190 minutes
Serves 8
Ingredients:

Wheat (roasted) 50g

Barley (roasted) 50g 

Split yellow pea 50g

Split Moong Beans 50g 

Skinless black gram 50g

Red lentil 50g
Ingredients:

Beef or lamb 500 – 700g 

Bones 200-300g 

Cooking onion 2 medium (sliced) 

Ghee 100g 

Rapeseed Oil 100ml 

Bay leaf 2-3 

Clove 6-8

Cinnamon stick 2-3 inch

Cardamom 7-8 (split before adding)
Garlic & ginger paste 1TBSP

Garam masala 10g

Memsahib Haleem mix 50g
(Red Chilli, Salt, Coriander, Turmeric, Roasted Cumin powder, Black pepper, Mace, Cardamom,, Paprika, Curry leaf, Nigella, Dehydrated onion, Dried papaya powder, Cane Sugar) 
Heat oil & ghee in a large saucepan then add cinnamon, cardamom, bay leaf and clove. Stir till the spices release aroma. 

Add onion and sauté till golden brown. Add garlic and ginger paste; fry till the raw flavour goes away. 

Now put all the meat and bone into the pan and fry on high heat for a couple of minutes. Turn down the heat to medium and fry till the oil comes up on top. You can add a little bit of water into this process so the spices are blended well with the meat.  

Drain the water from the grain mix then add to the pan.  Mix really well. 

Now add 7-8 cups of warm water into the pan. Cook it in medium heat. At this stage stir frequently so mix and don't stick to the bottom of the pan. 

Turn down the heat & cook for 2-3 hours till the gravy becomes thick. 

If the grain sizes are still too large it is advisable to separate the meat and use a hand blender to blend them (Careful not to blend too much or it will turn into a thick paste)

Garnish with chopped ginger, coriander, fried onion, chaat masala, lime juice and green chillies. 

Serve with Naan or Paratha bread.
Use a heavy bottom pan to cook meat

Use a slow cooker for cooking grains

Blend the grain a bit more for smoother consistency 

Add a handful of rice if you would like the stew a bit starchy