Our barman Paul has chosen something a little bright for our featured non-alcoholic cocktail with rhubarb as the star of the show. This drink consists of some more very easy to make but very versatile syrups – one using rhubarb and another using mint – both of course can be added to other drinks too!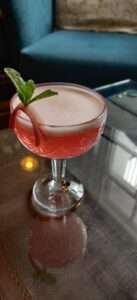 Make and serve this at home for yourself or ask Paul, our resident Memsahib bartender to create for you. If you try this at home or indeed at Memsahib's then be sure to tag us in your pics – share with us and tag us on Instagram – @memsahibbar #memsahibathome
Rhubarb Ripple
Drink: Non-alcoholic drink
Complexity: Easy
Preparation Time: 10 minutes
Drink serves 1, however, the syrups can be stored and serve many!
1. Home-Made Rhubarb Syrup (1L)
Ingredients:
700g stalks of fresh rhubarb

4 tbsp sugar

2L water
Method:
Dice the rhubarb and add to a pan with the sugar. Add the boiling water and simmer on a low heat for 20 minutes. Blend the mixture until creamy and then strain. Once cool, store in the fridge for up to 1 month.
2. Home-Made Rhubarb Syrup (1L)
Ingredients:
350g Sugar

4 tbsp sugar

2L water
Method:
In a heat resistant jug, add sugar to boiling water and stir until it has dissolved. Add the mint and mix. Cool the syrup down and store in the fridge for up to 2 months.
3. The Rhubarb Ripple Cocktail
Ingredients:
50ml non-alcoholic juniper spirit

50ml rhubarb syrup

25ml mint syrup

60ml rose raspberry lemonade

2 raspberries
Method:
Chill your coupe glass. In a cocktail shaker, add your raspberries and smash gently and then add all the other ingredients in the shaker with ice and shake for 10-15 sec. Fine strain into the glass and serve and perhaps garnish with fresh rhubarb, mint or raspberry.