A light and fragrant soup using seasonal vegetables and potatoes. Perfect for lunch or dinner starter during this hot summer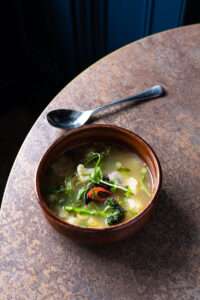 Season : Spring & Autumn   
Course: Soup
Complexity: Easy
Prep time: 10-15 min
Cooking time: 15-20 min    Category: Veg/ Meat

Serves: 4-6
Ingredients
12 to 14 cauliflower florets 
10 to 12 tenderstem broccoli 
3 small jersey royal potato cubed 
2 banana shallots chopped    
2 Garlic cloves chopped        
¼ tsp crushed fennel 
½  tsp crushed cumin 
1 green chilli (deseeded)   
2 bay leaf  
2 cloves 
Salt to taste
Ingredients 
6 Curry leaves     
2 TBSP olive oil     
1 tsp asafoetida
1.2 litre of vegetable stock
Garnish 
1 tsp freshly crushed black pepper  
Red chilli chopped 
Spring onion chopped 
1 TBSP Tamarind sauce /lime juice 
Roasted sunflower seeds
Method 
Steps:
Heat the pan with oil and add cloves, bayleaf, fennel, cumin and fry on  medium heat for a minute.

Add garlic, curry leaves, shallots, salt, green chilli  and asafoetida.  Saute for couple of minutes 

Add potatoes, cook for 2 to 3 minutes until softened. 

Pour the stock and bring it to boil.

Add cauliflower and broccoli. Simmer for 10 to 15 minutes 

Garnish with freshly cracked black pepper, chopped chilli, spring onion, tamarind paste and sunflower seeds.