If a man comes into a victualing house to drink punch, he may demand one quart of good Goa Arak, half a pound of sugar and half a pint of good lime water; and make his own punch. If the bowl is not marked with the clerk of the market seal, then the bowl may be freely broken without paying anything either for the bowl or punch. 
Order book of the Bombay Government, August 13, 1694
The Bombay Presidency Punch owes its name to General Sir John Gayer, who penned the recipe in 1694. Gayer was the East India Company's governor of the "Bombay Presidency" – as the trading company's possessions in that part of India were called. 

The punch was later discovered by sailors and merchants who travelled to the area looking to open up trade routes for gold and nutmeg. They mixed the locally produced spirit with citrus, sugar, and spices to create "punch" (the name might be derived from the Hindi word paantsch, which means "five" – the number of ingredients in a typical punch of that time).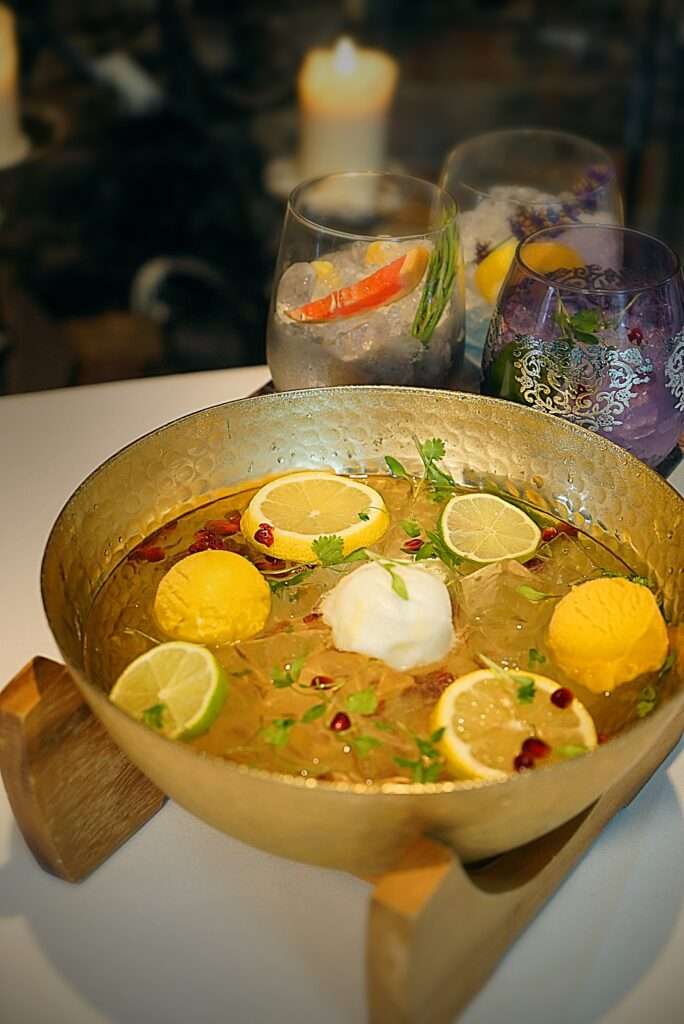 with bay leaf and cinnamon reduction 
Course: Beverage 
Complexity: Easy but Challenging in parts 
Preparation Time 15 to 20  minutes 
Cooking Time:30 to 40 minutes 
Serves:6 to 10
Ingredients
2 to 3 fresh or dry bay leaf 

2 inches of cinnamon sticks 

100-gram Jaggery/Brown Sugar 

½ Lemon zest

100 ml of water 
Method
2 to 3 fresh or dry bay leaf 

2 inches of cinnamon sticks 

100-gram Jaggery/Brown Sugar 

½ Lemon zest

100 ml of water 
To Make punch Ingredients:
Ingredients
400 to 500 ml of Palm Arrack/good Rum 

125 gram of Jaggery/light brown sugar  

6 lime juice 

1 Nutmeg 

A few rose petal

2 scoop Lemon/Mango Sorbet 

2 cups of water and 2 cups of ice

100 ml of Cinnamon and Bay leaf reduction (rest preserved for later use) 
Method:
Break up jaggery and put into a punch bowl. 

Cut the limes into 4 and muddle together until all the jaggery has dissolved. 

Add Arrack and stir, add water and mix it well. 

Add cinnamon and bay leaf reduction and mix it well.

Now add ice and garnish with grated nutmeg then add sorbet and rose petal.
Ingredients for garnishing punch cups: 
2 to 3 cubes of Ice

Couple of mint leaves

1 Kaffir Lime leaf 

1 cube of Turkish delight

Teaspoon full of Pomegranate

1 fresh/dry Bay Leaf
Put all the ingredients in a punch cup or highball glass accordingly and the present it with the punch bowl.